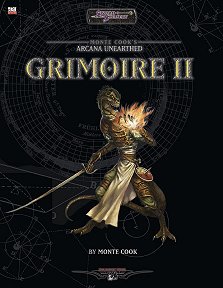 More spells...
Publisher's blurb: "If youâ??re hungry for new spells for your Monte Cook's Arcana Unearthed campaign, this is the book for you. The Grimoire II takes the spells presented in Malhavocâ??s The Complete Book of Eldritch Might and two Book of Hallowed Might volumes and adapts them for the Arcana Unearthed rules set.
"With dozens of pages of spell offerings, this 80-page supplement almost doubles your available spellcasting options, all tailored to suit the magic system introduced in Monte Cook's Arcana Unearthed. Each spell is categorized as simple, complex, or exotic, and every one comes complete with guidelines for heightening and diminishing its effects and using it to create magic items."
More when I get hold of a copy!
Click HERE to buy this from DriveThruRPG.com
Book Details:
Author: Monte Cook
Publishers' Reference: Unknown
ISBN: n/a
PDF, 80 pages
Date: Unknown
Product page last updated: 8 July 2006