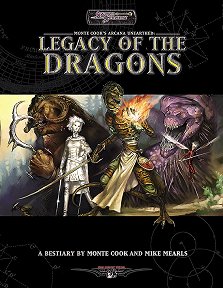 50 monsters, plus NPCs and other goodies from the lands of the Diamond Throne setting, but equally useful for games set elsewhere.
Publisher's blurb: "The hideous ghoul worm... the deadly blade trolls... the prowling kahrn, which literally feeds on combat and anger... This monster supplement provides dozens of new adversaries and allies like these, created as a bestiary for the best-selling Monte Cook's Arcana Unearthed variant player's handbook.
"Inside Legacy of the Dragons, 3rd Edition codesigner Monte Cook and popular d20 System author Mike Mearls present dozens of new nasties for your delight. From akashic seeker to zetetic, this book has what you need to add some teeth to your campaign!"
More when I get hold of a copy!
Click HERE if you want to buy this book from Amazon.com or HERE if you prefer to use Amazon UK.
Click HERE to get a PDF version from DriveThruRPG.com
Book Details:
Authors: Monte Cook and Mike Mearls
Publishers' Reference: WW16143
ISBN: 1-58846-958-1
Paperback, 160 pages
Date: May 2004
Product page last updated: 8 July 2006