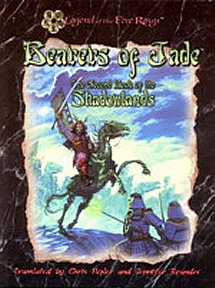 More mystical sources of adventure.
Publisher's blurb: "In the contaminated wastes of the Shadowlands, the nightmares of samurai come to unholy life. More dangers lie here than the Crab dare describe: fields grown of human hair, corpses of demons a thousand feet tall, and oni who hurl scars like spittle. Two-headed sharks swim the waters while rolling cages of bone race the demon horses of the undead Moto family. And they do not stop at the Kaiu Wall.
"Within these pages is the work of the wanderer Seikansha, whose life was rent asunder by servants of Fu Leng bidden within the very hear of Rokugan. He knows the viscera sucker that might be your bride, the forbidden teachings of bushi damned by the Emperor, and the oni who snatch spirits away from their bodies. Collecting letters, confessions, orders, and accusations from all the Clans of the Emerald Empire, Seikansha shows where the most terrifying evil waitsright beside you. No one is safe. Not even the bearers of jade.
"The second Book of the Shadowlands has what you need to sustain a Shadowlands campaign with the most battle-hardened bushi."
More when I get hold of a copy!
Book Details:
Authors: Chris Hepler and Jennifer Brandes
Publishers' Reference: AEG3019
ISBN:
Paperback, 152 pages
Date: 1999
Buy this product:
Product page last updated: 28 September 2015