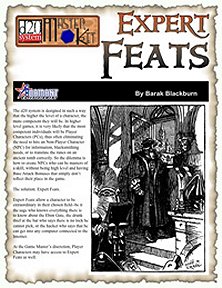 Rules addition to allow specific focused areas of expertise without creating a high-level character to provide them.
Publisher's blurb: "The d20 system is designed in such a way that the higher the level of a character, the more competent they will be. This creates a problem: how to create NPCs who can be masters of a skill, without being high level and having abilities and Base Attack Bonuses that simply don't reflect their place in the game?
"The solution: Expert Feats. Expert Feats allow a character to be extraordinary in their chosen field -be it the Sage who knows everything there is to know about the Ebon Gate, the drunk Thief at the bar who says there is no lock he cannot pick, or the hacker who says that he can get into any computer connected to the Internet."
More when I get hold of a copy!
Click HERE to buy this from RPG Now.
Book Details:
Author: Barak Blackburn
Publishers' Reference: ADM2017
ISBN: n/a
PDF, 4 pages
Date: June 2006
Product page last updated: 10 June 2006