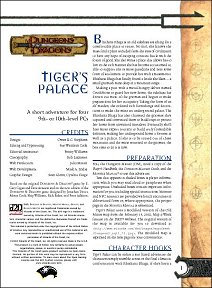 An adventure for 9th-10th level characters.
Publisher's blurb: "Bhishana Bhaga is an old rakshasa searching for a comfortable place to retire. No fool, she knows she must find a place secluded from the eyes of civilization to have any hope of escaping constant battle with the forces of good. She also wants a place that allows her to live in the rich manner she has become accustomed to, able to support one or more guardians and near some form of settlement to provide her with amusements. Bhishana Bhaga has finally found a locale she likes - a small gnomish mine deep in a mountain range.
"Making a pact with a metal-hungry delver named CrushStone to guard her new home, the rakshasa has driven out most of the gnomes and begun to make preparations for her occupancy. Taking the form of an elf maiden, she ordered rich furnishings and decorations to make the mine an underground palace. The Bhishana Bhaga has also charmed the gnomes she's captured and convinced them to build traps to protect her home from unwanted intruders. Eventually she'll hire more expert artisans to build truly formidable defenses, making her underground home a fortress as well as a palace. If she is to be rooted out of these mountains and the mine returned to the gnomes, the best time to do it is now."
Book Details:
Author: Owen K.C. Stephens
Publishers' Reference: Unknown
ISBN: n/a
PDF, 7 pages
Date: August 2002
Buy this product:
Product page last updated: 20 May 2016