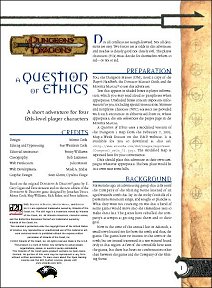 An adventure in which 12th-level characters need to decide what they are going to do, which side they'll take in events.
Publisher's blurb: "Not all conflicts are straightforward. Not all decisions are easy. Two forces are at odds in this scenario, and neither is clearly good nor clearly evil.
"Six months ago, an adventuring group that calls itself the Company of the Shining Stone learned of an aged wizard's tomb that lay in the rocky foothills of a prominent mountain range, and sought to plunder it. What they were not counting on was that a band of stone giants would move into the immediate area to make their lair. The giants have rebuffed the company's attempts at getting past them and to their goal.
"Now is the time of the annual fair in Adurath, a small town located not far from the tomb, and thus, the giants. The giants have no interest in the town or the tomb, but are instead interested in a rare mineral found only in that region. A few of the townsfolk have seen the giants, but there has been no confrontation other than between the giants and the Company of the Shining Stone."
Book Details:
Author: Monte Cook
Publishers' Reference: Unknown
ISBN: n/a
PDF, 11 pages
Date: July 2002
Buy this product:
Product page last updated: 22 June 2016