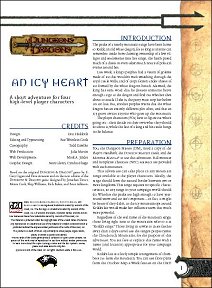 A winter's tale for 20th-level characters.
Publisher's blurb: "A new mini-module by Eric Haddock challenges PCs with a chilling adventure for this wintry season. The peaks of a nearby mountain range have been home to Krikk, an old white dragon, for as long as anyone can remember. Aside from claiming ownership of a few villages and settlements near her range, she hasn?t posed much of a threat or even taken much notice of political events around her.
"Last week, a king's prophet had a vision of golems made of ice that wouldn't melt smashing through the royal castle walls, and of crops frozen under sheets of ice formed by the white dragon's breath. Alarmed, the king has sent word that he desires someone brave enough to go to the dragon and find out whether she's about to attack. If she is, the party must stop her before it's too late. But, another prophet warns that the white dragon has an entirely different plot afoot, and that an icy grave awaits anyone who goes up the mountain.
"The player characters have to figure out what's going on - then decide on their own what to do about it, while the fate of a king and his castle hangs in the balance."
Author: Eric Haddock
Publishers' Reference: Unknown
ISBN: n/a
PDF, 7 pages
Date: January 2002
Buy this product:
Product page last updated: 10 August 2016