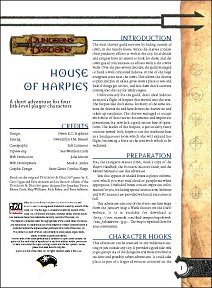 An adventure for 6th-level characters.
Publisher's blurb: "The local thieves' guild survives by hiding outside of town, in the nearby forest. Since the thieves confine their predatory efforts to within the city, local druids and rangers have no reason to look for them, and the town guard concentrates its efforts within the town's walls. Over the past several decades, the guild managed to build a well-concealed hideout in one of the large evergreen trees near the town. This allows the thieves to plan and plot in safety, gives them a place to rest and hide if things get too hot, and lets them check caravans coming into the city for likely targets.
"Unfortunately for the guild, their ideal hideout attracted a flight of harpies that moved into the area. The harpies like the hideout for many of the same reasons the thieves do, and have driven the thieves out and taken up residence. The thieves managed to escape with most of their secret documents and important possessions, but now lack a good, secure base of operations. The leader of the harpies, a particularly nasty creature named Irith, hopes to use the treehouse base as a headquarters from which she will expand her flight, becoming a force in the area with which to be reckoned."
Book Details:
Author: Owen K.C. Stephens
Publishers' Reference: Unknown
ISBN: n/a
PDF, 8 pages
Date: December 2001
Buy this product:
Product page last updated: 13 May 2016