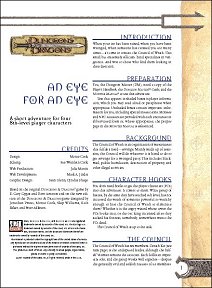 Some dangerous ruffians for your 8th-level characters to contend with.
Publisher's blurb: "When your ire has been raised, when you have been wronged, when someone has crossed you too many times - it's time to contact the Council of Wrath. This small but extremely efficient band specializes in vengeance. And woe to those who find them looking in their direction.
"The Council of Wrath is an organization of mercenaries that fulfils a need: revenge. Mainly made up of assassins, the Council will do whatever it is hired to do to get revenge for a wronged party. This includes blackmail, public humiliation, destruction of property, and other illegal activities.
This scenario can take place in any campaign. You don't even need hooks to get the PCs into this adventure: It comes to them. What group of heroes, by the time they have reached 8th level, has not incurred the wrath of someone powerful or wealthy enough to hire the Council of Wrath to eliminate them? Whether it is the angry wizard whose tower the PCs broke into, or the orc king incensed after they sacked his fortress, somebody, somewhere wants the PCs dead."
Book Details:
Author: Monte Cook
Publishers' Reference: Unknown
ISBN: n/a
PDF, 6 pages
Date: August 2001
Buy this product:
Product page last updated: 12 April 2016