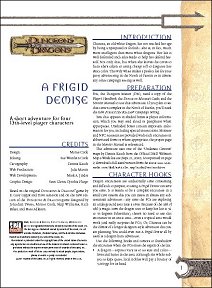 A nice draconic encounter for 13th-level characters.
Publisher's blurb: "A new mini-module by Dungeon Master's Guide author Monte Cookintroduces us to a wily white dragon named Charasta. Drop June's free online adventure, A Frigid Demise, into your new Forgotten Realms campaign in the North of Faerûn, or use it in any setting you like. Dragon encounters are traditionally time consuming and difficult to prepare, so save yourself some time time by picking up this challenging and complex encounter for four 13th-level characters.
"Charasta, an old white dragon, has not reached her age by being unprepared or foolish - she is, in fact, much more intelligent than most white dragons. Her lair is well defended and tailor-made to help her defend herself. Not only that, but when she leaves the caves to hunt, she's taken to using change self to disguise her exact color.
"You can insert her small cave system into almost any subterranean adventure - any time the PCs are exploring an underground area near a river. The dragon uses a new magic item to keep her lair always chilly, so there's no need to use this encounter in an arctic area - even a tropical area would work (and really surprise the PCs!). Meeting Charasta can be the climax of a longer dungeon-style adventure, or you could run A Frigid Demise all by itself as a dragon-hunt."
Book Details:
Author: Monte Cook
Publishers' Reference: Unknown
ISBN: n/a
PDF, 6 pages
Date: June 2001
Buy this product:
Product page last updated: 9 July 2016