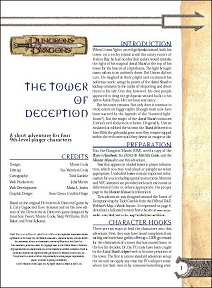 You thought you were teleporting home, but instead you've landed in a githyanki's trap - what fun for some 9th-level characters!
Publisher's blurb: "When Ustran Yg'niv, an evil githyanki wizard, built his tower on a rocky island amid the misty moors of Halron Bay, he had no idea that sailors would mistake the light of his magical Astral Shard at the top of his tower for the beacon of a lighthouse. The light brought many sailors to an untimely doom. But Ustran did not care. He laughed at their plight and continued his nefarious work: using the power of the Astral Shard to kidnap creatures in the midst of teleporting and divert them to his lair. One day, however, his own people appeared to drag the githyanki wizard back to his native Astral Plane. He's not been seen since.
"But his tower remains. Not only does it continue to trick sailors on foggy nights (though most now have been warned by the legends of the 'haunted lighthouse'), but the magic of the Astral Shard continues Ustran's evil abduction scheme. Originally, Ustran enslaved or robbed the victims the Shard delivered to him. With the githyanki gone, now they remain trapped within the evil tower until they devise an escape or die."
Book Details:
Author: Monte Cook
Publishers' Reference: Unknown
ISBN: n/a
PDF, 9 pages
Date: May 2001
Buy this product:
Product page last updated: 6 May 2016