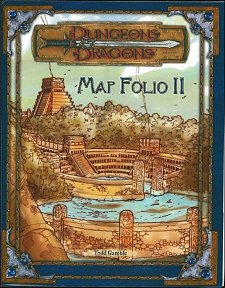 More maps to delight, inspire and intrigue...
Publisher's blurb: "Explore labyrinthine tunnels, a mysterious observatory, an imposing temple, and other intriguing locations with the aid of 32 full-color maps tucked inside. Whether used as inspiration for creating new adventures, as a handy reference during your game, or as a detailed handout to capture your players' imagination, each map offers the promise of adventure, the threat of danger, and the allure of reward.
"When combined, the maps in this folio create an exotic walled city built centuries ago by a mighty civilization. Perfectly suited for the coastline of any campaign world, this site is an ideal destination for explorers of the Eberron campaign setting's continent of Xenâ'drik. Whether still populated by a thriving society, overrun with monsters, or hauntingly vacant, this colossal city holds countless secrets waiting to be uncovered."
More when I get hold of a copy!
Click HERE if you want to buy this book from Amazon.com or HERE if you prefer to use Amazon UK.
Book Details:
Authors: Unknown
Publishers' Reference: WTC96569
ISBN: 0-7869-3135-3
Paperback, 64 pages
Date: August 2004
Product page last updated: 16 April 2006