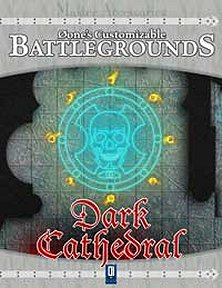 Although primarily designed for a miniatures skirmish game, this plan could be used as the climax of a role-playing adventure (with particular effect if you like to use miniatures for combat scenes). Even some of the scenarios ostensibly provided for skirmish play could be used to inspire an adventure for which the skirmish could provide the combat element.
Basically, the place is a big open worship space. In native format (although it is extremely customisable using 0one's "Rule the Dungeon" feature) it has already suffered quite a lot of damage from those opposed to whatever religion is practised here - broken doors, shattered statues and other debris strewn around. There's an altar (now bloodstained, which depending on the religion may be its usual state) on a dais at one end, with a couple of what appear to be ritual circles in side chapels to each side. Then there's a long nave, with pillars and niches for statues down the sides and the remains of a nice carpet running down the middle. There were big double doors at the end, they are the ones lying broken on the floor now.
Presented in colour, with the lush top-down view artwork 0one Games are famous for, there is a one-page overview map and a larger map made of 6 segments to be used as the actual battlemap. You are able to customise these maps by choosing whether or not to display walls, lights, those sacred circles, the statues, furniture and other odds & ends, rubble, the grid lines or even the background itself if you want to save ink when printing.
Return to Customisablle Battlegrounds: Dark Cathedral page.
Reviewed: 19 March 2006