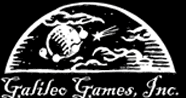 Comprising Brennan Taylor, Krista White & C. Austin Hogan with contributions from a whole bunch of talented artists, Galileo Games has 2 product lines out plus another (Mortal Coil, a modern fantasy game) that's under open development on the website.
Bulldogs! - an exuberant D20 Science-fiction game
Legends of Yore
Visit their website.
Company Section last updated: 19 February 2006