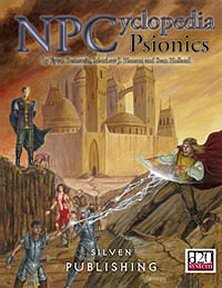 A resource for any DM who wants some pregenerated psionic NPCs to liven up his game, complete with lots of background, adventure hooks and statistics for 1st to 20th level provided for each one.
Publisher's blurb: "So you have purchased the Psionics Handbooks, and one of your players has decided to use a psionic class. You want psionics to be part of your world. The problem is that you use a lot of pre-made modules, and those don't include a lot of psionic characters.
"Or maybe you've procrastinated finishing tonight's adventure. You've got the caverns mapped out, and the traps set, you just don't have the statistics of the main villain.
"Or maybe you are looking for a few new ideas to spark you imagination. You might want a reoccurring villain to challenge your characters over the course of the campaign, or you might just need a one short conflict for next week game."
Book Details:
Authors: Eytan Bernstein, Matthew J. Hanson, and Sean Holland
Publishers' Reference: SP1004
ISBN: n/a
PDF, 176 pages
Date: January 2006
Buy this product:
Product page last updated: 8 October 2006