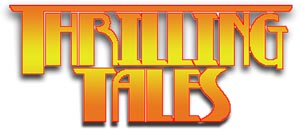 Adamant Entertainment presents a series of advanced classes, adventures and other resources designed to facilitate best-quality classic pulp D20 Modern games.
In true pulp tradition, a new line - Thrilling Tales Theatre - has now been launched, providing a serialised adventure in MP4 movie format, coupled with a PDF containing details of NPCs, equipment and other game material drawn from the movie.
The latest addition to the collection is a collaboration with Hero Games to produce D20/Thrilling Tales versions of their Pulp Hero adventures.

Setting Page last updated: 2 June 2007