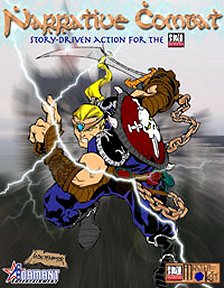 Sometimes combat gets so bogged down in die-rolling and options (and moving miniatures around if you use them) that it's easy to lose sight of what's happening in the 'alternate reality' of your game. Recapture the adventure.
Publisher's blurb: "NARRATIVE COMBAT gives Game Masters an entirely new combat system -- one that moves away from the tactical skirmish-level miniatures game that D20 has become. This new system can be used with the existing feats and abilities, and is usable in ANY d20 game--Fantasy, Modern, Future or Past.
"In fiction, combat serves to highlight and resolve conflict. The scene shows us something important about the world, the characters, and their relationships with one another. Combat also acts as a symbol for danger, sharpening the tension in a scene by giving us a visceral sense the characters might die.
"In a RPG, though, combat occurs so often it blends into the background. The scene tells us little about the characters or the world. Instead it serves as a way to work with numbers and explore various tactical options. We play a game of combat in which random chance, character building choices, and tactical savvy stand dominant over narrative concerns.
"With NARRATIVE COMBAT we try to combine narrative flow and the game elements of RPG combat. The players make meaningful choices and face obstacles worthy of heroes in the pursuit of goals that mean something. Meanwhile, the game elements provide both play options and the dramatic tension associated with the possibility of failure."
More when I get hold of a copy!
Book Details:
Author: Shannon Kalvar
Publishers' Reference: ADM2015
ISBN: n/a
PDF, 54 pages
Date: November 2005
Buy this product:
Product page last updated: 2 December 2006