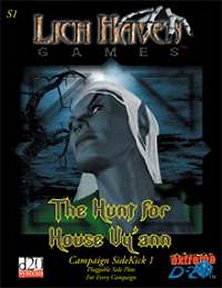 Widen the scope of your campaign world by introducing extra adventures, ready-made to slot into what is already going on. And while it may not seem to have much to do with what was going on before, your characters will soon find themselves embroiled, like it or not!
Publisher's blurb: "Your PCs are progressing nicely through your homebrew campaign and are suddenly attacked by drow assassins. Having no idea how the drow assassins fit into the current campaign, they research the attackers and decide to search them out. Using the strange magic of the drow, the PCs teleport to a devious drow chapel house, built into the guts of a large stalactite. They fight through a score of able combatants, new magical energies and the divine proxy of an unknown god... And the drow have nothing to do with your campaign. The PCs have just learned a great lesson: there are many more evils at work in this world and a few may be hunting them."
More when I get hold of a copy!
Click HERE to buy this from DriveThruRPG.com
Book Details:
Author: Tom Ryan
Publishers' Reference: Unknown
ISBN: n/a
PDF, 32 pages
Date: November 2005
Product page last updated: 10 December 2005