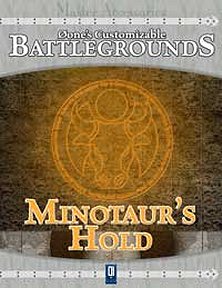 Primarily intended for those who use miniatures during combat - or who fancy a miniatures skirmish game - this product consists of a detailed temple-like room. It is presented in 0one's usual lush style and with the technological bells and whistles - such as being able to turn various features on and off - that they have been developing over the past few years.
You have the option of a map covering a single sheet, or the same map enlarged and presented on 8 sheets of paper. There are also several scenario ideas, best suited to a miniature skirmish, which you can set up using this map. Or of course, perhaps it spawns a few ideas as to where such a chamber might be the central point of one of your own adventures...
Return to Minotaur's Hold page.
Reviewed: 11 October 2005