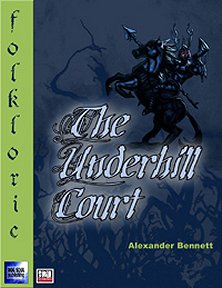 Suitable for insertion into any fantasy game, or as a stand-alone adventure, it's an opportunity to visit the fabulous and terrifying world of the sidhe, the fairies of dark Irish legends. With details on the inhabitants of the Court, new monsters and a bonus map book suitable for miniature play.
Publisher's blurb: "Strange tidings are heard on the whispers of the wind: odd stirrings in the forest, of things foreign to men. The Underhill Court has come for a time, and if you dare, you might find its hidden door. Within its ballroom sits a cold queen, a relentless king, a jester so riddled and horrible his only joy is to cause others to suffer. There within the chambers of the Court revel the ageless sidhe, the Tuatha de Danann: childless, timeless, never tiring of their pursuit of pleasure. Will you be their honored guest, or the night's entertainment?"
Click HERE to buy this from RPG Now.
Book Details:
Author: Alexander Bennett
Publishers' Reference: DGS363
ISBN: n/a
PDF, 34 pages
Date: September 2005
Product page last updated: 9 October 2005