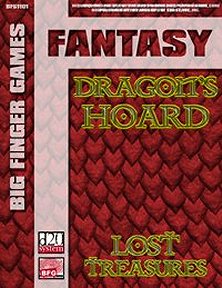 A useful resource, especially if your players are the sort who what to know precisely what is in the treasure they have just grabbed, right down to the very last detail.
Publisher's blurb: "The dragon - the ultimate adversary any group of adventurers may face. The prize - the hoarded treasures those adventurers seek. The hoard includes new magic items and forgotten legends, lost to the world. For anyone who wants a hoard of fantastic treasures for their fantasy d20 game, we present the first in our line of Dragon's Hoard pdfs.
"Contents include six 'lost treasures' - forgotten magic items that have been in the dragon's clutches for decades. Each lost treasure features background, history, and rumor that the characters have a chance to recall. There are also four new minor magic items and a fiery new spell. Finally, the guardian: the red dragon, Demrellkull. Statted and ready to be dropped into the lair or dungeon of your choice. A quick reference sheet featuring the dragon's stats in an easy to use format (editable in the pdf format) is also included."
More when I get hold of a copy!
Click HERE to buy this from RPG Now.
Book Details:
Author: Michael Todd
Publishers' Reference: BFG1101
ISBN: n/a
PDF, 17 pages
Date: September 2004
Product page last updated: 4 September 2005