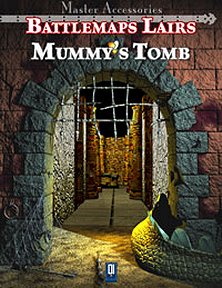 Presented to the high standard we have come to expect from 0one Games's maps, this product provides details of a small "Mummy's Tomb" - a suite of three chambers suitable for either using as the focal point of an adventure or for dropping in to an existing complex, whatever suits your plotline.
The three rooms consist of the Tomb itself, a laboratory/workshop area and a storage room. Each chamber can be printed out by itself, or as a group - in colour or greyscale depending on your needs. As an added feature, there's a checkbox which allows you to choose to show the rooms empty or with the contents supplied. It's an 'all or nothing' choice, but does provide scope for having characters find that others have been there before them, or that the original occupant packed up and left before they got here. After all, mummies do not always stay where their creators intended!
The laboratory area looks like it was used for mummy preparation, while the store room appears to contain some canopic jars (used to contain the internal organs - heart, liver, etc. - of the mummy). The tomb itself is quite bare, with the sarcophagus in the centre.
Overall, it is nicely put together, but naturally the adventure that leads the characters here, the surrounding area and whoever or whatever is encountered here are all up to you. For those of us who can write but not draw it's a godsend... and there are even a couple of ideas provided in the introduction to get you thinking. Next time you intend for your characters to visit a mummy's tomb, they can do it in style.
Return to Battlemaps Lairs: Mummy's Tomb page.
Reviewed: 27 July 2005