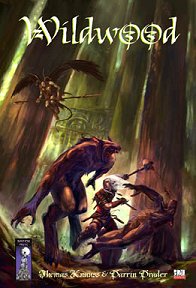 A new area of the Forge revealed, complete with adventures, new rules appropriate to the setting and more.
Publisher's blurb: "The few pockets of humanity scattered throughout this untamed wilderness struggle to survive. Countless hordes of fearsome predators and foul beasts - including the green dragon Mastuu Dargus - freely roam through the twisted, overgrown forests and jungles of Wildwood, preying on the weak and unwary. Yet, concealed within the dense greenery of this heartless domain lies a wealth of undiscovered mysteries and limitless riches for those brave enough to navigate the endless gauntlet of horrifying monsters and lethal dangers. Behind it all is the harsh and cruel master of the lands, Haiel, manipulating all of those within his domain.
"The sundered ruins of lost cities and strangely altered patches of wilderness conceal vast and wondrous earthly treasures as well as newfound insight on the world's secrets and the machinations of Haiel. Adventurers seeking to wrest mighty artifacts from their owners and unravel the enigma of this primordial domain must face the frightening denizens lurking within the shattered temples and ominous thickets of these forbidden locales. In Wildwood, one mantra reigns supreme: Survival of the Fittest."
Click HERE if you want to buy this book from Amazon.com or HERE if you prefer to use Amazon UK.
Click HERE to get a PDF version from DriveThruRPG.com
Book Details:
Authors: Thomas Knauss and Darrin Drader
Publishers' Reference: BAS1022
ISBN: 1-59263-017-0
Hardback, 224 pages
Date: 2005
Product page last updated: 25 November 2005