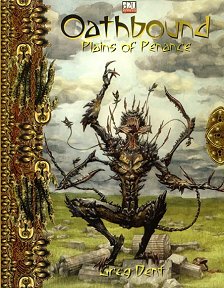 Venture forth from the safety (if you can call it that) of the city walls and explore the lands beyond.
Publisher's blurb: "Beyond the most populous city on the Forge lies a vast, uncontrolled expanse of rolling grasslands, scattered crags, and light woods. In strong contrast to the rest of the world, where nature stands in opposition to intelligent life, the bountiful land here provides a lush wealth of resources upon which the great cities have come to depend. Powerful forces vie for control over this abundant domain, as ruthless bloodlords of the cities clash against the deep-rooted druids of the wilds, hardened armies from the west, and even mysterious visitors from the depths of the northern oceans.
"Despite the constant conflicts, the vast plains hide much from the attentions of those in power and provide a breeding ground for petty tyrants, outlaws, rogue villains, and hordes of roving monsters. Far from empty, the plains are as ancient as the cities that spring up among them and even the wilderness contains a wealth of lost history, culture, and knowledge."
More when I get hold of a copy!
Click HERE if you want to buy this book from Amazon.com or HERE if you prefer to use Amazon UK.
Book Details:
Author: Greg Dent
Publishers' Reference: BAS1008
ISBN: 0-9714392-9-X
Paperback, 160 pages
Date: February 2002
Product page last updated: 25 July 2005