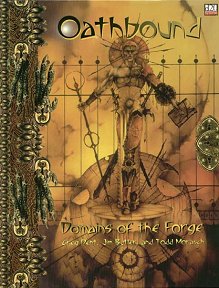 A strange and dangerous place, yet perhaps one made for the very soul of an adventurer...
Publisher's blurb: "Of the Seven Feathered Fowl that rule the Forge, none are as respected as Israfel the Queen. Her seat of power is the City of Penance, a sprawling metropolis that has existed for countless eons. Bloodlords vie for control of the city, each scheming against other rulers and enlisting the aid of new heroes to the realm in their quest for power. And as long as they follow the Queen's Laws, Israfel watches their actions with apparent disinterest.
"Danger and adventure can arrive unheralded from a variety of sources, though. In addition to the complex political machinations in which heroes can find themselves entangled, the city is built upon the ruins of itself. This has created dungeon environments beneath the city streets--and these dungeons hold secrets and artifacts highly sought after by the Bloodlords of Penance.
"With residents pulled from worlds across the cosmos, the Domains of the Forge serve as a strange mixing grounds of cultures, races, and ideologies. Those who visit the world come away forever changed, their hearts, souls, and bodies marked by their experiences while within the world this realm."
More when I get hold of a copy!
Click HERE if you want to buy this book from Amazon.com or HERE if you prefer to use Amazon UK.
Click HERE to get a PDF version from DriveThruRPG.com
Book Details:
Authors: Greg Dent, Jim Butler and Todd Morasch
Publishers' Reference: BAS1005
ISBN: 0-9714392-6-5
Hardback, 352 pages
Date: 2002
Product page last updated: 25 July 2005