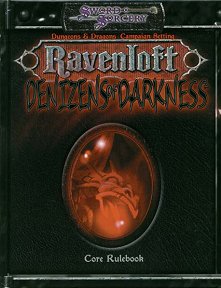 A 'Monster Manual' of unholy beasties to stalk Ravenloft by night (or day if you're really unlucky).
Publisher's blurb: "Fiends prowl the oppressed world of Ravenloft, inflicting their whims on a terrorized populace. From the cunning blood goblins to terrible artificial constructs to the monstrous lords of the domains, evil dominates the night. This tome compiles the haunts that scourge the realm."
More when I get hold of a copy!
Click HERE if you want to buy this book from Amazon.com or HERE if you prefer to use Amazon UK.
Click HERE to get a PDF version from DriveThruRPG.com
Book Details:
Authors: Beth Bostic, Bernard Cana, Jackie Cassada, Andrew Cernak, Leonard Dessert, Robert Farnsworth, Christopher S. Gurney, Carla Hollar, Jeffrey Kahrs, Brett King, Rucht Lilavivat, John W. Mangrum, Joe Masdon, Stewart MacWilliam, Tadd McDivitt, Nicky Rea, John Richardson, C. Bryant Strickland, Andrew Wyatt and Fred Yelk
Publishers' Reference: WW15002
ISBN: 1-58846-077-0
Hardback, 184 pages
Date: 2002
Product page last updated: 20 July 2005