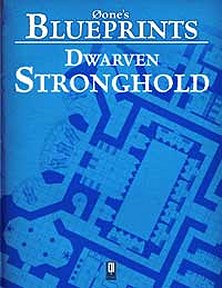 There are many reasons for visiting a dwarven stronghold, be it still in use or an ancient relic - and when you do want to visit one, here's a map.
Publisher's blurb: "The dwarven stronghold is a multi-level fortified dungeon. It was undoubtedly built to defend one side of the mountain; the other side faces friendly people and has no need of strong defenses. The dwarven engineers built the stronghold near a subterranean river in order to exploit the power of water to build a dwarven wonder: a raising underwater bridge. The bridge is the major defense of the west side of the stronghold. The entire bridge, due to a gigantic device working like a dam, can disappear under the waves of a mountain lake, thus preventing the access to the main portal of the stronghold. Should the enemies manage to go through the portal, they would find a formidable line of defense made of ballistas, murder holes, arrowslits and stone guardians. The stronghold consists of five levels intertwined with a number of staircases heavily guarded. Each level has its own purpose. The level 0 houses soldiers and jails, as well as forges and shrines. Level 1 houses more soldiers (these two levels are self-sufficient, being provided of kitchens and larders) Level 2 is dedicated to the nobles, with great halls of statues, an arena and nobles' quarters. Level 3, the topmost one, is the main temple area complete with the crypts for the dwarven heroes. The last level (-1) is the dam level. Here the dwarven engineers work and keep maintenance of their device, also there is the bridge control room."
More when I get hold of a copy!
Book Details:
Authors: Unknown
Publishers' Reference: BLU15
ISBN: n/a
PDF, 23 pages
Date: July 2005
Buy this product:
Product page last updated: 20 October 2007