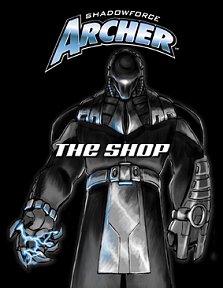 All you ever wanted to know about what those devious Shop folks were up to, an example of how to create really devious opponent organisations for your agents to battle against.
Publisher's blurb: "The agenda is evolution. The failsafe is extinction. For two years, the Archer Conspiracy has scoured the world, searching for the reason the Shopâ??s gadgeteers broke away from their ranks. Fighting off the villain organizationâ??s overtly violent (and seemingly senseless) advances at every turn, agents of the worldâ??s shadow communities grapple with the looming certainty of a master plan they cannot see. Now, theyâ??re about to discover the truth in his 128-page sourcebook that lays bare the Shopâ??s innermost workings, its goals, and unexpected motivations, all driven by fan response through the SFA Interactive campaign!"
More when I get hold of a copy!
Click HERE if you want to buy this book from Amazon.com or HERE if you prefer to use Amazon UK.
Book Details:
Authors: Robert J. Defendi, Alexander Flagg, Scott Gearin, James Maliszewski, Clayton A. Oliver and Michael Surber
Publishers' Reference: AEG1008
ISBN: 1-88-795390-6
Paperback, 128 pages
Date: 2003
Product page last updated: 16 July 2005