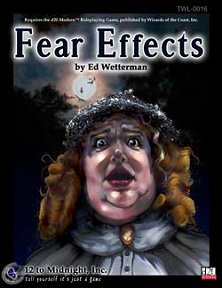 If you are running horror-themed games, it makes sense to have a mechanic to judge how scared the characters are... and how it's affecting them.
Publisher's blurb: "The Horror check is an important mechanic in any horror roleplaying game. It's a mechanic that players have come to identify with horror gaming, and now 12 to Midnight is proud to contribute its own 100% OGL horror check system for use with any d20 roleplaying game.
"The Fear Effects system is designed to be simple, keeping the emphasis on the adventure and not on burdensome rules. There is no sanity score you must track, and the Horror check is based on a single DC for all encounters. If the check fails, the Fear Effect is tiered based on the severity of the situation, ranging from anywhere from "weak knees" to coimetrophobia (fear of cemetaries), and even up to hysterical blindness (psychosomatic blindness).
"However, the Fear Effects system is more than a single set of rules. It is also a GM toolbox for creating your own rules to fit your campaign, which is why it also includes nine rule options & variants. While Fear Effects was written with modern horror in mind, it uses nothing specific to one time period or genre. Use it in any campaign from fantasy to future to give your game a more realistic edge. Fear Effects reminds players that dangerous adventures can carry all sorts of consequences and helps stimulate role-play."
Book Details:
Authors: Ed Wetterman
Publishers' Reference: TWL0016
ISBN: n/a
PDF, 13 pages
Date: June 2005
Buy this product:
Product page last updated: 1 March 2008