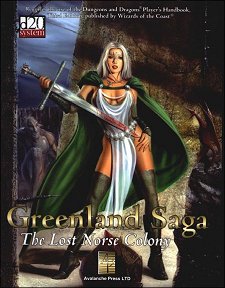 An adventure/sourcebook for characters of 2nd-4th level, set in the Greenland of the Norse Sagas.
Publisher's blurb: "Spring, 1454. Almost five hundred years ago, Viking colonists came to Greenland. For centuries, their colony thrived on the very edge of the known world. Then they disappeared.
"In this d20 adventure in the spirit of The Last Days Of Constantinople, a small party of 2nd through 4th leve characters investigates the decline of Europe�?�¢??s most distant outpost. Face the bloodthirsty Uniped, mythical foe of explorer�?�¢??s. Meet the mysterious angakoks, Eskimo magic-users. And find out what has happened to the deluded, degenerate remnants of a once-great warrior people. A stand-alone adventure, or use its detailed background as source material for your own campaign!"
More when I get hold of a copy!
Click HERE if you want to buy this book from Amazon.com or HERE if you prefer to use Amazon UK.
Click HERE to get a PDF version from DriveThruRPG.com
Book Details:
Author: Mike Bennighof
Publishers' Reference: APL0903
ISBN: 0-9707961-2-9
Paperback, 48 pages
Date: July 2001
Product page last updated: 25 January 2006