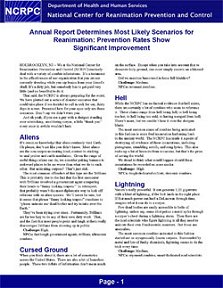 If you have been inspired by Blood and Brains to introduce zombies into your D20 Modern campaign, or start one with a zombie focus, this will help you decide just what sort of zombies you want to use and how they came about. And if you are wondering about whether or not you want to run some zombie adventures (and hence whether to invest in some source material), this will give you some ideas to chew on.
The contents are basically 15 short paragraphs, each outlining one possible situation in which a zombie threat might arise. Each, although brief, contains sufficient to spawn an entire campaign let alone an evening of zombie-bashing fun.
I think about the only complaint I could raise is that while porporting to be a report from the National Centre for Reanimation Prevention and Control, it's written in a very casual style quite unlike any government report I've ever read. That said, the ideas are clearly presented in an extremely readible way, and as a free resource it is certainly well worth grabbing!
Return to Blood and Brains - NCRPC: Most Likely Scenarios for Reanimation page.
Reviewed: 7 April 2005