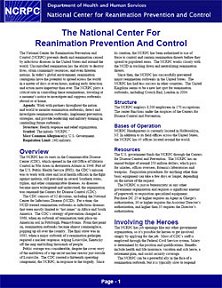 An organisation to use as employer, friend, or foe in zombie hunting games.
Publisher's blurb: "The National Center for Reanimation Prevention and Control (NCRPC) prevents death and reanimation caused by infectious diseases in the United States and around the world. Uncontrolled reanimation has the ability to destroy lives, strain community resources, and even threaten nations. In today's global environment, reanimation contagions have the potential to spread across the world in a matter of days or even hours, making early detection and action more important than ever. The NCRPC plays a critical role in controlling these reanimations, traveling at a moment's notice to investigate and suppress outbreaks abroad or at home."
Thanks to RPG Objects for making this available!
Available FREE from RPG Now, click HERE to get your copy.
Book Details:
Author: Mike Tresca
Publishers' Reference: RPO3010F2
ISBN: n/a
PDF, 3 pages
Date: February 2005
Product page last updated: 7 April 2005