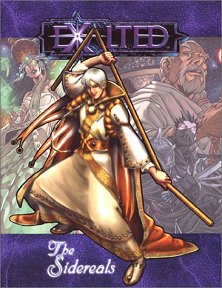 Continuing the review of the different sorts of Exalted, this bunch walk happily with gods and with men. The book includes details of the celestial city of Yu-Shan and plenty of politics to dabble in.
Publisher's blurb: "They travel among the gods as officials of high station, and walk secretly among men as the servants of the Maidens. For them, destiny and fate run like wax. Yet for all their might the Sidereals are mortal, and Heaven as well as Creation has entered a time of tumult. Will the Sidereal Exalted retain their station or perish in a celestial civil war?"
More when I get hold of a copy!
Click HERE if you want to buy this book from Amazon.com or HERE if you prefer to use Amazon UK.
Book Details:
Authors: Brian Armor, R. Sean Borgstrom, Geoffrey C. Grabowski, Steve Kenson, Krister Michl & John Snead
Publishers' Reference: WW8814
ISBN: 1-58846-669-8
Hardback, 224 pages
Date:
Product page last updated: 26 March 2005