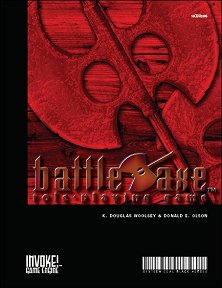 Unlike many publishers' ideas of a 'printer-friendly' PDF, this one is still very attractive to look at as well as being in a portrait format that's more amenable to printing out and binding/filing for yourself. Actually, I find it easier to read than the original version too!
Publisher's blurb: "This first volume of the BattleAxe RPG covers the lands just north of the Dragonback Sea and the Ilith Damming, describes six of the races of Mordredica and their kingdoms, and introduces the Invoke! game engine."
Thanks to 16 Coal Black Horses for making this available!
More when I get hold of a copy!
Available FREE from the 16 Coal Black Horses website, click HERE to get your copy.
Book Details:
Authors: K. Douglas Woolsey and Donald E. Olson
Publishers' Reference: Unknown
ISBN: n/a
PDF, 154 pages
Date: February 2005
Product page last updated: 19 March 2005