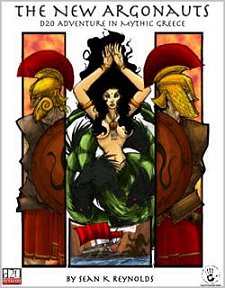 If you've ever thought that ancient Greece would be an interesting setting for a game, think no longer, get this...
Publisher's blurb: "This book by Sean K Reynolds gives you everything you need to run a campaign in mythic Greece. Rather than cramming dwarves, paladins, and otyughs into a Greek setting, The New Argonauts presents a low-magic campaign (but still with a touch of the fantastic and divine) where the focus is on Greek-style heroes, their battles against strange monsters, and great quests. This book gives insights on how a low-magic campaign affects character concepts and game balance, an overview of Greek culture, history, the Olympian pantheon, the original Olympic Games, and advice on running a mythic Greek campaign. Gamers who love crunchy bits can find new feats and spells, a set of heroic powers derived from godly bloodlines, a campaign-themed spellcasting class, simple magic items based on parts from mythic monsters, and over thirty monsters drawn from the Greek myths (many rewritten from the core version to suit a low-magic campaign)."
More when I get hold of a copy!
Click HERE to buy this from RPG Now.
Book Details:
Author: Sean K Reynolds
Publishers' Reference: SKR002
ISBN: n/a
PDF, 64 pages
Date: October 2004
Product page last updated: 2 January 2005