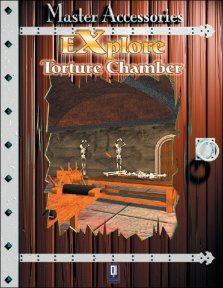 Last place I'd want to go exploring... but if the Bad Guys indulge, then they need to be stopped... Fortunately for the more squeamish, this room is somewhat less-well rendered than the rest of the Explore series, with some rather cartoony items that I suppose are intended to be whatever infernal devices are to be found here, mercifully only occupied by skeletons.
Like other product in this series, it's based on a room originally found in Battlemaps: Dungeon Rooms Vol.1, and comes with 4 pre-generated pictures as well as the capability of producing your own views or displaying the entire room from any angle if you have a computer where you role-play.
Return to Explore: Torture Chamber page.