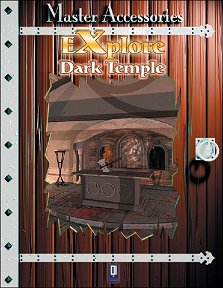 This offering from the Explore series enables you to look around an extremely atmospheric temple. It's a long, low barrel-vaulted room with an altar on a dais at one end - rather ominously there's a large double-headed axe embedded in the altar and the steps are blood-stained. The rest of the chamber is bare apart from some gargoyles poised on short pillars... they look ready to leap down, so take care!
Like all Explore product, there are 4 pre-generated views or you can produce your own using Quicktime's snapshot facility. You'll have to describe anyone - or anything - that's in here, though, or display appropriate miniatures on the matching floorplan from Battlemaps: Dungeon Rooms Vol.1.
Return to Explore: Dark Temple page.