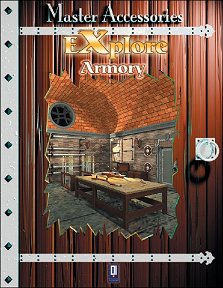 The third offering in the Explore series, again a room originally presented as a floorplan in Battlemaps: Dungeon Rooms Vol.1, shows the interior of an armoury. A very neat and tidy one, with racks of jousting lances on one wall, it looks more like a sales area than a working weaponsmith's - a bit surprising as it's supposedly to be found in the depths of a dungeon somewhere.
As usual, there are 4 pregenerated pictures or you can make your own using Quicktime's snapshot facility, or even display the room interior on a computer during play.
Return to Explore: Armoury page.