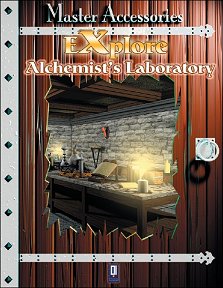 The second in the Explore series, this one allows you to produce for - or (if a computer is available where you're gaming) show - your players a series of views of an alchemist's laboratory as if they were looking around the actual room.
Based on the floorplan first presented in Battlemaps: Dungeon Rooms Vol.1, it's a simple rectangular room with an array of alchemical equipment. There's a big work table, shelves and other equipment - all looks fairly tidy, especially the rather modern-looking shelf unit complete with books and jars.
Again, there are 4 pregenerated views if you are in a hurry, or you can create your own using Quicktime's snapshot utility... or indeed let the players look round for themselves.
Return to Explore: Alchemist's Laboratory page.