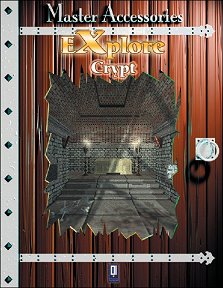 The latest innovation from 0one Games, this product enables you to produce 'snapshots' of a dungeon room or even - if there's a computer available where you are playing - to allow folks to scan around the room for themselves.
Using Quicktime Virtual Reality, you can pan around the room and take 'pictures' to print out and hand to your players, and if you are in a hurry, there are 4 provided, based on the salient features of the room.
Here, we are looking at the Crypt - which has already been presented as a floorplan in Battlemaps: Dungeon Rooms Vol.1 and in Skirmish Tiles: Dungeon Rooms Set 1, so you can present a coherent picture with views of the room already represented more conventionally on your table-top. The art style is similar, so the whole thing would fit together well if you choose to present it thus.
The main problems are that the room is empty - you'll have to rely on description and either separate pictures or miniatures to protray NPCs and monsters to be found there - and that however hard our friends at 0one Games work, there will be far less rooms treated in this manner than you have rooms in the average dungeon or other complex. So perhaps your players will suspect something is up when they get so much detail thrown at them. Overall though it's another fine use of developing technology to bring dungeons to life during game sessions.
Return to Explore: Crypt page.