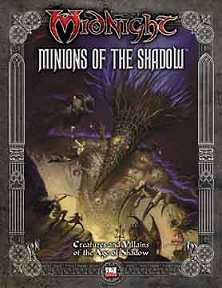 A collection of creatures primarily for the Midnight campaign setting, but adaptable to cast shadow over any setting.
Publisher's blurb: "Welcome to Eredane, a land under Shadow. The creatures herein fill many roles, from the natural animals of Eredane?s ecosystem to the most vicious hunters under Izrador?s command. They range from minor annoyances and tricksters to powerful beings that even the Night Kings fear. Also included are stat blocks and backgrounds for several of Izrador?s most notorious servants: Grial the Fey Killer, Zebrim the Slayer, Darshod of the Dead Mother Tribe, and more. Whether you need more creatures to pit against your heroes on Aryth, or you want to bring the taste of Midnight to another campaign, Minions of the Shadow are ready to serve."
More when I get hold of a copy!
Click HERE if you want to buy this book from Amazon.com or HERE if you prefer to use Amazon UK.
Click HERE to get a PDF version from DriveThruRPG.com
Book Details:
Authors: Sam Witt, Jeffrey Barber, Shannon Kalvar, and Lysle Kapp
Publishers' Reference: MN04
ISBN: 1-58994-107-1
Paperback, 64 pages
Date: August 2003
Product page last updated: 31 December 2005