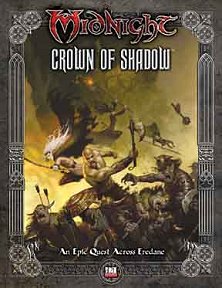 An epic quest, which begins with characters at 1st level, those who survive may reach 5th by the end.
Publisher's blurb: "No one race or culture has the might to stand against Izrador and his foul legates. The dwarves are valiant, but caged in their mountains. The elves are skilled, but have neither the numbers nor the resources to fight off the orc hordes forever. Yet there are some few who would join their knowledge and skills, the better to fight the Shadow that has fallen over both peoples. And those few are hunted.
"Crown of Shadow is a desperate quest across Eredane, ranging from the depths of the Kaldrun Mountains, across the grim expanse of the occupied plains of Erenland, through the secretive underground of the Eren River, and finally into the heart of the Whispering Wood itself. The players, inexperienced rebels in the fight against Izrador and the Night Kings, become the unintended recipients of a valuable prize, the unwilling charges of a deadly quest. The forces of the Shadow have uncovered a prize of their own, however, and have given it to one f their most devious champions. The party must elude this tireless pursuer and reach sanctuary a continent away, lest they fall prey to the Crown of Shadow."
More when I get hold of a copy!
Click HERE if you want to buy this book from Amazon.com or HERE if you prefer to use Amazon UK.
Click HERE to get a PDF version from DriveThruRPG.com
Book Details:
Author: Jeffrey Barber
Publishers' Reference: MN03
ISBN: 1-58994-109-8
Paperback, 64 pages
Date: May 2003
Product page last updated: 31 December 2005