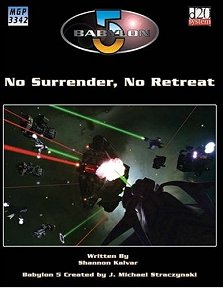 It's always difficult with a roleplaying game based on a TV series to decide how to make use of what has appeared on the screen - after all, it's the show that has led gamers to wish to explore that setting for themselves, yet they don't just want to repeat what they have seen on the screen in their game. With the Babylon 5 line, we have possibly the best handling of episode guides, with ideas linking each episode to spin-off events that could take place in your game without breaking the continuity of all that we know did happen in that alternate reality, yet linking the PCs to it. This book continues that, covering the events of 2261 or Season 4 of the TV show.
Opening with a review of the major characters in the show (including revised game statistics should your characters ever encounter them) we then move on to an episode-by-episode breakdown of the entire season. For each, there's a comprehensive description of what actually took place (which makes this book a useful resource for fans of the show, irespecive of whether or not they play the game), plus - for us gamers - notes on what has been introduced in the way of technology or anything else for which some additional game mechanics could be useful, and suggestions for events, adventures, even whole campaigns, that could spin off from whatever happened in that episode.
There's also a detailed timeline to help you keep everything on track and a final section full of new and revised game mechanics including new equipments, prestige classes, and new spaceships to play with.
Whether the events in the show weave around what's happening in your game or merely serve as a backdrop, this helps you keep events straight... until your characters derail them of course! In a time of legends, feel free to carve out your own.
Return to No Surrender, No Retreat page.
Reviewed: 14 October 2021