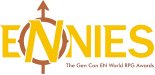 Here is the complete list of entries for the 2020 awards.
+1 Forward
6d6 Fireball
The Last Stand of the Dream Guard
8 Drone Games
Big Trouble Settings Guide and Rules
9th Level Games
The Excellents: Excellent Princess Roleplaying
MAZES The Polymorph RPG of Dungeons and Dangers
23rd Century Productions
Battlelords of the 23rd Century
Battlelords of the 23rd Century (pdf)
Battlelords of the 23rd Century Quick-Start Rules
AAW Games
ADVENTUREAWEEK.COM
Earl Grey, Hot
Future's Past: Tomorrow's End
Aaron King
Aaron Reed
Across Eberron
Eberronicon: A Pocket Guide to the World
Action Fiction
Ad Infinitum Adventures
Icons Presents
Icons Rogues
Adam Hancock
Balduran's Guide to Kingdom Building
The Adventure Guild
Quest Game Book
Quest Core Deck
Quest Adventure Deck
Quest website
Ain't Slayed Nobody
Alex Clippinger
Dragonshard Sundown
Sharn: City of Blood!
Skullport: Dragon Swindle
Alexa Games Games
Starfinder: the Voice RPG
Alligator Alley Entertainment
Esper Genesis Core Manual
Esper Genesis Threats Database
Amr Ammourazz
Andrew Bishkinskyi
Across Eberron Episode 8: March of Madness
Sisterhood of the Blade
When Mages Fall
Andrews McMeel Publishing
MAIN GAUCHE: Grim & Perilous RPG (Phone PDF)
MAIN GAUCHE: Grim & Perilous RPG
ZWEIHANDER RPG: Player's Handbook (Phone PDF)
Zweihander Grim & Perilous RPG: Player's Handbook
ZWEIHANDER RPG: Character Folio
Anna Landin
Angry Hamster Publishing
Afterlife: Wandering Souls
Anthony Joyce
The Blood Hunter
The Heir of Orcus: Verse III
Anthony Joyce and Justice Arman
Baldur's Gate: The Fall of Elturel
Anthony Joyce and Jeremy Forbing
The Heir of Orcus: Verse IV
Anthony Joyce and Oliver Clegg
Appendix N Book Club
Araukana Media LTD
Arc Dream Publishing
Delta Green Patreon
Delta Green: Control Group
Delta Green: Ex Oblivione
Delta Green: The Labyrinth
The King in Yellow: Annotated Edition
Swords & Sorceries: The Tomb of Fire
Arcana Games
Arkadia: The Greek Setting for 5e
Arkadia: Music and Ambiance CD
Fate of the Oracle
Arcanist Press
Warlock Codex of Law and Chaos
Ardacious Pty Ltd
Ardent Roleplay: augmented reality for TTRPGs
Virtual miniatures for The Haunting
Asians Represent
Astrolago Press
Atlas Games
Over the Edge, 3rd Edition
Over the Edge Dice Set
Over the Edge: Poster Map of the Edge
Over the Edge: Sounds from the Edge
Over the Edge: Welcome to the Island
Baby Beard Media
Bastionland Press
Bedrock Games
Strange Tales of Songling
Ben Auden Roswell
Together We Write Private Cathedrals
Bianca Canoza
Ichor Night
Peril of the Fat Prince
Birch and Bat Studios
Bix Six Adventures
The Village Monster: A Hero Kids Compatible Adventure
Black Armada Games
Bite Marks
Flotsam: Adrift Amongst the Stars
Black Monk Games
Call of Cthulhu Keepers Rulebook - Polish Edition
Blasphemous Tomes
The Good Friends of Jackson Elias
Brittannia Game Designs Ltd
Chivalry and Sorcery 5th Edition Digital Edition
Chivalry & Sorcery 5th Edition: Creag Hill
Chivalry & Sorcery 5th Edition: Nightwalkers
Chivalry & Sorcery Treason
Black Void Games
Black Void Core RPG
Those Who Would be Gods: A Black Void RPG Campaign
BPB Games
Savage Tokusatsu: Kaiju, Mechs, and Heroes for Savage Worlds
Savage Tokusatsu: Shimmer Guardians!
Brian McLachlan
Mastering Riddles, Puzzles, & Mazes
Bullypup Publishing
Session Zero: An Introduction To The World of Roleplaying Games
Burning Games
Dragons Conquer America: Core Book
Campaign Mastery
Cannibal Halfling Gaming
Castles and Humans
The Incredible World of Doors & Locks
Cat Evans
Jolene - or, the Beauty from Beyond the Stars
Midwinter Ghost Stories
Cat Evans & Alicia Furness
The Dashing Kobold Kavalry; Or, A Confusion of Weasels
Eat the Rich Anthology Volume 1
Certain Death Publishing
Chaosium Inc.
Call of Cthulhu: Alone Against the Frost
Call of Cthulhu: A Cold Fire Within
Call of Cthulhu: Berlin the Wicked City
Call of Cthulhu: Dead Light and Other Dark Turns
Call of Cthulhu: Gateways to Terror
Harlem Unbound Second Edition
Paladin Adventures
Paladin: Warriors of Charlemagne
RuneQuest: The Smoking Ruin and Other Stories
The RuneQuest Coloring Book
Choose Cthulhu
Christopher M. Cevasco
Bound to Avernus: Warlock Customization
The Mourned: A Playable Undead Race
The Primal Gith: A Lost Race Rediscovered
Ruea's Ultimate Guide to Radiance
Christopher Grey
10 Workers United
30 to 50 Feral Cards
Goddamn F*cking Dragons, A Novel About Terrible Heroes
Cloven Pine Games
Secret Science Sewer Siblings
Wayfarer's End
Corey Hickson
Grandmother Crookbessom's Book of Hags
The Coven
Frigid
The Pride Collection
Creature Curation/Norse Foundry
Atmar's Cardography: Below the Forest of the Dead
Atmar's Cardography: Dangerous Traps and Obstacles
Atmar's Cardography: Magical Items and Artifacts
Atmar's Cardography: Tunneling the Wajue Mines
Cubicle 7
Doctor Who Roleplaying Game: The Twelfth Doctor Sourcebook
Warhammer Fantasy Roleplay Starter Set
Warhammer Fantasy Roleplay Rough Nights & Hard Days
d-Infinity Online
d-Infinity Online Game Magazine
D&D Adventurers League
Pipyap's Guide to All of the Nine Hells
D&D Adventurers League (Eberron Campaign)
Eberron: Oracle of War (Spoils of War storyline)
Oracle of War: The Iron Titan
Dave Thaumavore
Dave Thaumavore (on YouTube)
David Cox
David Markiwsky
Friends, Foes and Other Fine Folk
DDE Adventures
Dee Pennyway
Mnemonic: Cracks in the Mirror
Mnemonic: Lost in the Grey
Delenia Creations
Density Media
Dance 'Til Dawn Quickstart
Drive-Ins & DJs
Exphrasis
Hi-Ho!
Modern Masters
Urban Manhunt: Family Fun Night
DiasExMachina
Dicegeeks
The King's Road: An Epic Fantasy Campaign
Dicegeeks.com Tabletop RPG Show
Donathin Frye and Kienna Shaw
DMs Guild Adepts
Oracle of War: Salvage Bases & Missions
DNDSpeak
Don't Split the Podcast Network
Behold Her Podcast
Table Top Babble
The Dovetailor
Across This Wasteland With You
Asian Acceptance
Dragon Turtle Games Ltd.
Carbon 2185: A Cyberpunk RPG Core Rulebook
Interlinked: A Carbon 2185 Mission Book
Dream Machine Productions
Dream Realm Storytellers
Corpus Malicious Demo Booklet
Svilland: The Norse Setting for 5E
Drew Dawes
Glittergold's Clockwork Combat
Drop Dead Studios LLC
Ultimate Spheres of Power
Dungeon Channel
Dungeon in a Box
Dungeon in a Box: Voyage of the Fallen Star
Dungeon Solvers
Elder Brain
Ember + Ash
Emmy Allen
Encoded Designs
The Streets of Avalon
Turning Point Quickstart Rules
Enlightened Role-Playing
Curiosity Made the Adventurer
Exalted Funeral Press
Seekers Beyond the Shroud
The Ultraviolet Grasslands and the Black City
Expeditious Retreat Press
The Halls of Arden Vul Complete
Exit Pursued by Owlbear Team
Exit Pursued by Owlbear: A Shakespeare D&D Anthology
Explorer's Guild Publishing
The Fandomentals
The Fandomentals Gaming
Faeforge Academy (podcast)
Fandible Podcast Network
Fandible Actual Play Podcast
Fandible Numenera Longshot
Fandible Soloshot: Star Wars: Force and Destiny Actual Play Podcast
Fear the Boot
The Adventures of Young & Holt
Gunn for Hire
Felix J
New Horizon: All-In-One Core Book
Ferocious Games Limited
Dystopia 23 Core Rulebook
Dystopia 23 Equipment Book
History of the Future
Raven Sky
Dystopia 23 Primer
Focal Point Gallery
Free League Publishing
ALIEN the RPG
Chariot of the Gods
MÖRK BORG Artpunk RPG
Symbar: Mother of Darkness
Gallant Knight Games
The Great American Novel
Zorro: The Roleplaying Game
The Gauntlet
Fear of a Black Dragon
The Gauntlet Podcast
Games Omnivorous
17th Century Minimalist: A Historical Low-Fantasy OSR Rulebook
17th Century Minimalist: Mini Adventure Folder
Bring Me Her Bones
The Feast on Titanhead
Gale Force Nine
Games Omnivorous (co-edited by Exalted Funeral)
Gamenomicon
GBDW Games
Station Hunt: The RPG of Survival in Isolation
Gear Games
Vulcania: The Roleplaying Game
Geeks Table
Gehenna Gaming
VirtualHorror Con: The world's first virtual horror tabletop RPG convention
Genesis of Legend Publishing
Gila RPGs
the glyphpress
The BLOODY-HANDED NAME of BRONZE
Gnomedic
Go Nerdy, LLC
Out of the Pan: A Power Outage Adventure
Goat Song Publishing
An Angelical Year in the Angelical Life of an Angelical Life
Cold Comforts
Goatman's Goblet
Rakehell, Issue 1: The Rift of Mar-Milloir
Golden Goblin Press
An Inner Darkness
Tails of Valor
Gordon McAlpin
Grand Scheme Publishing
Greasy Snitches
Brotherhood
Minauros Unchained
Stygia Untamed
Tainted Love
Green Ronin Publishing
Campaign Builder's Guide
The Expanse Roleplaying Game
The Expanse: Abzu's Bounty
Fantasy AGE Lairs
Modern AGE Enemies & Allies
Modern AGE Threefold
Modern AGE Threefold Quickstart
Roadtrip to Ruin
Shadowtide: Recipes from Aldea
Sovereigns of the Blue Rose
Superteam Handbook
Time Traveler's Codex
Gulix
Gun Metal Games
Interface Zero 3.0: The Player's Guide to 2095
Handiwork Games
The Hermit's Sanctuary for BEOWULF: Age of Heroes
Happy Monster Press
Legion of Liberty: Superheroes of 1776 for Savage Worlds
Heart of the Deernicorn
BFF! Best Friends Forever
Hedgemaze Press
Hellbound Heists
Hero Games
Highland Paranormal Society
The Lost Isle
The Moldy Unicorn
Primeval Holt Of The Elk Lords
The Stolen City
Tunnel Goons
What Child Is This?
Hirukoa Publising House
Little Fears: Cthulhu's Tales
Hit Point Press
Alderheart Box Set (Humblewood Deluxe Set)
Big Bad Booklet Issues 1-6
Deck of Many Animated Spells
The Griffon's Saddlebag - Vol. 1 and 2
Humblewood Box Set
Humblewood Hardcover Campaign Book
Humblewood Miniatures
Horse Shark Games
The House of the Red Doors (DCC RPG)
Hydra Cooperative (co-edited by Exalted Funeral)
Lorn Song of the Bachelor
Ibi Deficit Orbis
Inkwell Ideas
DungeonMorphs Book of Modular Encounters
DungeonMorph Delver, Trailblazer, & Voyager 10" Tiles
Imaginary Empire Games
Into the Darkness Video Podcast
Into the Darkness Video Podcast
Into the Darkness Video (Website)
Introcaso Creative
J. Halk Games
Cult of Petosega
Grove of the Disco Duck
Ionic Dragons: The Book of Chaotic Dragons
The Missing Villagers
Velour Palace of the Disco Emperor
Jack Rosetree and Doug Levandowski
Jared Sinclair
Anti-Sisyphus
Prismot! A Troikawave Zine, Issue 1
Jason Miscia
The Bedtime Man
Ravenloft Gazetteer: Verbrek
Jason Panella
Jeremy Forbing
Masque of the Red Death Player's Guide
Jessica Marcum Writes
Book of Seasons: Equinoxes
Book of Seasons: Solstices
College of Caterwauling
Erasure
Joe Raso
Terror Beneath the Frozen Gate
Justice Arman
Devil's Advocate: A Guide to Infernal Contracts
Step Right Up
Justice Arman, Anthony Joyce, Anne Gregerson, and Gordon McAlpin
Baldur's Gate: City Encounters
Justice Arman, Anthony Joyce, Trevor Armstrong, M.T. Black, Jeremy Forbing, Laura Hirsbrunner, and Ed Greenwood
Elminster's Candlekeep Companion
Justin Joyce
Geese At The Beach: Creatures Tasked With Collecting Things For The Feathery Overlord
High Noon
Just Insert Imagination
Tuffguys
Wiseguys: The Savage Guide to Organized Crime
JVC Parry
Keith Ammann
The Monsters Know What They Are Doing
Ken Davidson
Kinoko Games
Dark Alleys & Twisted Paths (13th Age)
Knight Owl Publishing
Knucklebones
Age of Myth: Ancient World Supplement for Fifth Edition
Kobold Press
Tales of the Old Margreve for 5th Edition
La Librería Digital
L A Wilga
Lagging Dice
Dashing Scoundrels
Dust Bowl Galaxy
Lamentations of the Flame Princess
Barbarians of Orange Boiling Seas
Menagerie of Exiles
More than Meets the Eye
Zak Has Nothing to do with This Book
Last Word Audio
Designers & Dragons: The '70s A History of the Roleplaying Game Industry
Never Unprepared
Kobold Guide to Magic
Robin's Laws of Good Game Mastering
Play Unsafe
Le Trip Fantastique
FAST DRAW, the RPG initiation engine
Learn Larp, LLC
Magimundi Bestiary 5th Edition (5e)
Leatherman Games
Loke Battlemats
Dungeon Books of Battlemats
Dungeon Decorations
Loot the Room
Lost Dutchman Publishing
Against Expanses
Dreadful
In the Shadow of Giants
Monster Roster II: Arctic Anamalies
The Wyrd of Stromgard
Lost Highway Games
Hit the Streets: Defend the Block
Lucian Kahn
LunarShadow Designs
Luciella Elisabeth Scarlett
Cage of Sands
Defeat the Demon Lord (But With Table Tennis)
Pride & Princes
The Swamp Beast
Lydia Van Hoy, Sadie Lowry, Kayla Bayens, & Ciarra Parry
The Adventurer's Domestic Handbook
Ma'at Crook
Protégé of the Trampling Forest
Machine Age Productions
#iHunt: Killing Monsters in the Gig Economy
Mage Hand Press
Magpie Games
Zombie World
Zombie World: The Farm
Zombie World: The Mall
Many Realms
Mahar Mangahas
Mayhem in Paper
Cyberpunk Forces
Hosting Site (OneMonk)
Makenzie De Armas
Birb Brains
i've been
Knarl's Candy Compendium
Pneumamancy
Magnificent Creations
Matthew Ryan Kay
Mud & Blood: A podcast dark & grim
Matthew Whitby, Anne Gregersen and Justice Arman
Volo's Guide to Getting Murdered
Melsonian Arts Council
Frond of Benevolence
Fungi of the Far Realms
Wet Grandpa
Michael Elliott
MATR1X 0VERL0AD
MATR1X 0VERL0AD: CYBERMANCY
Michael Van Vleet
A Warm and Pleasant Hum
DEVIL, AIM FOR ME
Micro RPG
Micro Chapbook RPG Deluxe Core Rulebook
Miki Games
Flight of the Magpies: an Eberron adventure
Wouter's Worldly Wunderkammer
Misdirected Mark Productions
Modiphius Entertainment
Edgar Rice Burrough's John Carter of Mars: Adventures in a Dying world of Barsoom
Star Trek Adventures: Strange New Worlds - Mission Compendium Vol. 2 Supplement
Vampire: The Masquerade 5th Edition: Fall of London
Monkey Mind Tabletop
A Little Competition Never Hurt Anyone
Secrets of the Cure
Secrets of Imaginary Friends
MonkeyBlood Design & Publishing
City of Great Lunden
Handy Maps Towns and Villages
Monkeyfun Studios
Molten Sulfur Press
Mother Multiverse Media
Vector! Attack of the Metapirates
Mousehole Press
MT Black Games
Mordenkainen's Tome of Marvelous Magic
Shield of the Hidden Lord
Mystical Throne Entertainment
Beyond the Firelight Deluxe
The Fallen
Little Heroes Deluxe
Mythical Normal LLC
Inhuman Conditions: A Game of Cops and Robots
ndpdesign
Imp of the Perverse: Psychological Horror & Monster-Hunting in Jacksonian Gothic America
Necrotic Gnome
Old-School Essentials Black Box
Old-School Essentials Classic Fantasy Rogues Gallery I
Old-School Essentials System Reference Document
Old-School Essentials Generators
Newstand Press
Nightpath Publishing
Entromancy: A Cyberpunk Fantasy RPG
Entromancy: A Cyberpunk Fantasy RPG (Quick Start Guide)
Entromancy: Hacker Battles
Not-So-Super Villains
Entromancy: Book One of the Nightpath Trilogy
Technomancy: Book Two of the Nightpath Trilogy
Shadowmancy: Book Three of the Nightpath Trilogy
No Road Home Studio
Stewpot: Tales from a Fantasy Tavern
Noah Grand
Jaunt to the Center of Faerun
Toxicity
Nor Cal Mythos Entertainment
Carbyne Jungle Core Rulebook
Norse Foundry
Adventure Compass (Skull)
Adventure Compass (Dragon)
Okapi Games
The Words and Deeds of The Chain of Tlachic
Okumarts Games
Adorkable Dungeons: Heroes Set One
Darkfast Dungeons: Fantasy Adventure Game Basic Rulebook
Pulp Inc. Set Three: Eldritch Investigators
Retro Space Set Ten: Space Station Set
Oliver Clegg
Killer Kobolds from Outer Space
On the Shoulders of Dwarves
On the Shoulders of Dwarves
The Other Side
The Other Side blog
The Warlock for Old-School Essentials
P.B. Publishing
Wranglers of Westhallow - Beginnings Collection
Paizo Fans United
Wayfinder #19: Destination: Absalom Station
paNik productions
Modern Character Tokens
MODERN DUNGEON5
ParadiceRPG
Party Of One Podcast
Pelgrane Press
Absinthe in Carcosa
The Best of Intentions - a Night's Black Agents: Solo Ops adventure
Eyes of the Stone Thief - 5th Edition Compatible
Ken and Robin Talk About Stuff
The Missing and the Lost - a Yellow King RPG novel
Night's Black Agents Director's Screen & Resource Guide
Night's Black Agents: Solo Ops
See Page XX - the Pelgrane Press webzine
Shards of the Broken Sky
The Yellow King Roleplaying Game
The Yellow King RPG Suite - music for the Yellow King RPG
Petit Guignol
Cold War Navy
Our Vacation
Thousand Year Old Vampire
Planarian
Plane Sailing Games Limited
A Cool and Lonely Courage
Planet X Games
Plot Points Productions
Encounter Theory: The Adventure Design Workbook
Plot Points Podcast
Polyhedra Games
Possum Games
Posthuman Studios
Power Word Roll
The Princess Project
Q WORKSHOP
Divinity: Original Sin 2 Dice Set
Questing Beast
Random Alien Games
Free Spacer
Sector Archives
Red Scales Publishing
Koryo Hall of Adventures Adventurer's Guide to Jeosung
Renegade Game Studios
Overlight: The Ivory Mausoleum
Renegade Game Studios/Hunters Entertainment
Icarus
Kids On Bikes: Strange Adventures Volume Two
Outbreak Undead 2ed: Gamemaster's Guide
Teens In Space
Reviews from R'lyeh
Richard Malena-Webber
Richard Woolcock
Fantasy Archetypes
The Gobfather
Tricube Tales
Riverhouse Games
Game Closet: An Informal Chat Show With Queer & LGBT+ TTRPGs
Games Unruly Rending Piping Sense: The Treachery Of Images
Jellyfish Are Not Real
The Treasure At The End Of This Dungeon Is An Escape From This Dungeon And We Will Never Escape From This Dungeon
River Horse
Jim Henson's Labyrinth, the Adventure Game
RJD20
Robbie Pleasant
Roll for Persuasion
Dr. Megan Connell is Using D&D to Help Improve Mental Health
Rolling Boxcars
Tube Screamer Dungeon Part One: Proof of Concept
Roselysium
The Moon: A Warlock patron
Rowan, Rook and Decard
Black Magic: A Spire Sourcebook
Eidolon Sky: A Spire Scenario
Heart: The City Beneath Quickstart Edition
Royal Blood: A Game Of Cards
Sexy Battle Wizards
Strata: A Spire sourcebook
This Is Not A Place Of Honour
Ryan Langr
Grazilaxx's Guide to Ancestry
Master of None: Multiclassing Variants and Roleplay Suggestions
Sam Tung & Sam Roberts
Samjoko Publishing
Hack the Planet: Cyberpunk Forged in the Dark
Never Knows Best
Saga Press
The Monsters Know What They Are Doing
Sandy Pug Games
Saturday Morning Scenarios
Harper's Tale: a forest based adventure path for 5e
Whispers in the Dark: Quickstart rules for 5e
Savage Worlds Adventure Guild
The Wolverines Take the Highway to the Danger Zone
Scribemind
RPG Writer Workshop
Uncaged Volume II
Uncaged Volume III
Uncaged Volume IV
Seth Skorkowsky
Shawn Tomkin and Matt Click
Sigil Stone Publishing
Silver Hoof Games
Our Bucket List
Postcard from the Expedition
See You in Hell
Silver Hoof Games (website)
Sinister Beard Games
Quietus: A roleplaying game of melancholy horror
Skirmisher Publishing LLC
100 Oddities for a Pilgrimage Trail
City Builder: A Guide to Designing Communities
In the Footsteps of Hercules (A Universal RPG Sourcebook)
The Prop Room
Troll Warband (A Faction for 'Ragnarok: Age of Wolves')
Skirmisher Publishing LLC (Website)
Sly Flourish
Fantastic Adventures: Ruins of the Grendleroot
Sly Flourish: Building the Better D&D Dungeon Master
Smooching Knife
Sneak Attack Press
The Runewild Campaign Setting
Son of Oak Game Studio
City of Mist 'All-Seeing Eye Investigations' Starter Set
City of Mist Roll20 Starter Set
SoulMuppet Publishing
Best Left Buried: Beneath The Missing Sea
Space Orange 42
Aces High! (SWADE Option)
Be-Movie
Gold & Glory: The Halls of the Damned
Hope & Glory: Player's Handbook
Hope & Glory: Master's Guide
Gold & Glory: Ebenezer's Gold
Gold & Glory: Seven Deadly Dungeons
Scheherazade: The One Thousand and One Nights RPG
Shidee - The Tales of Our Journey
Spellburn
Starlit Games
Pythos Tabletop Roleplaying Game
Pythos Tabletop Roleplaying Game: Quick Start Edition
Starstruck Mountain, Pythos Adventure Module
Stratos Fotakis
Stephen Wood Games
Steven Colling
Isle of Lore 2: Hex Tiles Regular
Steve Orr & Bill Putrino
How The Lich Stole Christmas
Puzzles, Predicaments, and Perplexities
Puzzles, Predicaments, and Perplexities II
Studio Agate
ADELIANE Album
Fateforge Adventures
Fateforge Grimoire
Fateforge Player's Guide
Shadows over Esteren Dearg
Stygian Fox
New Tales of the Miskatonic Valley 2nd ed.
Thorston, The Shunned Town On The Dee
The Story Told RPG Podcast
The Story Told 2020 Ennie Submission
Superrobotbear
Sweden Rolls
Swordfish Islands LLC
Super Blood Harvest
The Tomb of Black Sand
Sword Queen Games
BALIKBAYAN: Returning Home
TAG Sessions
Tatoskok Studios
Malar: The Beastlord Compendium
Taylor University PWR Press
Call of Cthulhu: Refractions of Glasston
Thick Skull Adventures
The Last Will and Testament of Obediah Felkner
Three Minds Software
Tin Star Games
Lancing With Myself
Relics: A Game of Angels
Total Party Thrill
TPT #237: Stealing From Forged in the Dark & The Night Fox
Tribality
The Seas of Vodari: Swashbuckling & Sorcery on the High Seas
Tuesday Knight Games
Trilemma Adventures
Trilemma Adventures Vol 1
Twelve-Sided Stories
UK CCC Writers
Bourne of Candles
The Tainted Grove
Uri Lifshitz
Escaping Thalamus's Lab
Rolling With Laughter: A Guide for Running Comedy Adventure
Victor A. Gonzalez
Monstrous Logic Monster A.I. - Goblins and Orcs
Unbreakable Publishers
Unbreakable Anthology Volume 1
Underground Oracle Publishing
Realms of The Underground: Underground Oracle Quarterly Vol. 2
Up to 4 Players
Crystal Heart
Crystal Heart Web Comic
Ursidice
S.C.R.E.A.M. - The Horror
Vance Games
Arawn's Challenge
Escape From the Demon Inn
VJH Creations
Restless: A Guide to Laying Incorporeal Undead to Rest
Vintage RPG
Vintage RPG
The Vintage RPG Podcast
Vorpal Dice Press
Amarune's Almanac: Forests of the Realms
Prism: Light & Magic
Wannabe Games
Web DM Entertainment
We Hate Bards LLC
PUNKTOWN Episode 5: In The Meantime
PUNKTOWN Episode 10: The Facility
Weird Age Games
Wet Ink Games
Never Going Home
Never Going Home: Tome of Corrupted Beasts
Never Going Home: Book of Whispers
Will Brolley, Imogen Gingell, and Laura Hirsbrunner
Willy Abeel
Necromancy Can Be Good
Uncovered Wonders: About Barbarians
Uncovered Wonders: About Wizards
Windmill Slam Games
Gally & Grumble Terrific Travels
Monsters & Magic: The 5e Bestiary & Treasury
Wisdom Under Fire Team
Wisdom Under Fire - Wom-battle the Blaze
Wizards of the Coast
Mordenkainen's Fiendish Folio, Volume 1: Creatures Malevolent and Benign
Wizards and Wine
Zan's Adventures
The Wild Wolves of East Wood
Zombie Sky Press
Along the Twisting Way: The Faerie Ring Player's Guide
Zonware
Company Product list last updated: 11 July 2020