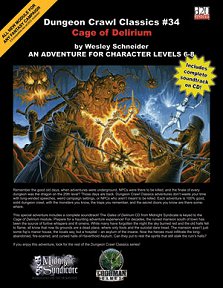 Apparently there's a burnt-out old mansion to the south of town, about which there are all sorts of rumours, fuelled no doubt by the fact that it used to be a mental hospital. Who in their right mind would go near a place like that? The party, that's who, given sufficient incentive.
The background material for the DM includes a detailed backstory explaining just what's going on there, a list of monsters, scaling information and more... and if you pick up the print version there's a CD with appropriate mood music keyed to different locations and events in the adventure. If you have bought the PDF version, you don't get this but are provided with a link to where you can pick up a copy. If you like background music to your games, this is a neat opportunity to have something specifically tailored to it - there are detailed instructions as to what should be played when.
If you haven't guessed yet, this is a horror story. The hooks provided to get the party involved bear that out, ranging from a dying member of staff scared that their spirit might be drawn back there to merchants and town officials concerned about a malign influence on the town. Like any good haunting, the way to deal with the spooks here is to find out how to grant them rest, so there's a fair bit of thought involved as well as combat. The backstory is quite extensive and, rather neatly, opportunities are provided for the DM to share it with the party by means of visions. It's a massive place to explore, and there's a lot to find (and fight) - given the large number of undead clerics and other pious characters are recommended for your party.... and how do you fancy being accosted by an animated straitjacket that just wants to give you a hug?"
Descriptions are evocative, and there's a wide variety of encounters to keep the party on their toes. Some of the ghosts are even prepared to talk rather than fight, and may have useful information to impart. The adventure ends when all the spirits are enabled to rest, and the remants of the mansion fall into even more ruin. A good spooky adventure.
Return to Cage of Delirium page.
Reviewed: 18 October 2018