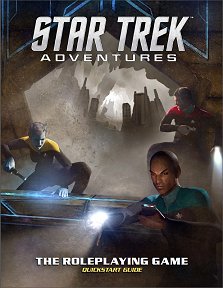 After a couple of pages advertising assorted Star Trek miniatures, the full rules and other accessories, we get to Chapter 1: Quickstart Rules. This consists of an introduction, basic operations and combat. The introduction provides brief basic details of what the game is about and what you need to play it, then there's a run-through of how a character is described in terms of attributes, skills and so on, and how these are used in play. There's a lot packed in, and as well as providing the detail you need to run the Quickstart could make a good introduction for new players joining an existing game. Finally, there's sufficient information for running a brawl. The concentration is on person-on-person combat, but there's a nice sketch of a Galaxy-class starship showing where all the weapons are located.
Chapter 2: Away Mission 'Signals' contains a short adventure. Apparently a small vessel, a runabout, has gone missing whilst investigating a mysterious signal emanating from the Carina Nebula, and the party's starship has been tasked to investigate. Finding a planet, the characters are beamed down to the surface as an away party, and that's when the fun begins... settlers and Romulans provide opposition, and there's the source of that signal to sort out as well. The notes are full of advice for the first-time GM, explaining how to use the rules to best effect throughout.
Finally, six pregenerated characters are provided: first officer, science officer, medic, engineer, a bridge officer, and the security chief. Amongst this we have a Vulcan, an Andorian and a Trill. Quite a bit of variety for the players to try out.
This presents a good introduction to an excellent interpretation of Star Trek as a role-playing game, with an adventure that captures the spirit of the show well. The illustrations and style of the whole thing suggests The New Era, but it would adapt reasonably to a different era if you insist. It certainly leaves you wanting to play some more of this game!
Return to Quickstart Guide page.
Reviewed: 4 October 2017