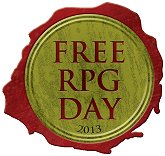 Free RPG Day 2013 was on Saturday 15 June. Here's what was on offer:
Frog God Games: Swords & Wizardry Adventure Hall of Bones
Lamentations of the Flame Princess: Better Than Any Man
Paizo: Pathfinder RPG Adventure We Be Goblins Too!
Catalyst Game Labs: Cosmic Patrol Quickstart
Catalyst Game Labs: BattleTech/Shadowrun Quickstart Flipbook
Fantasy Flight Games: Shadows of a Black Sun
Q Workshop: Unique Steampunk d6s
Chessex: Commemerative Dice
Goodman Games: DCC RPG Adventure
Onyx Path Publishing: Adventure & Quickstart for Vampire: The Requiem
Flying Buffalo: Fire Dwarves of Zorr, Deluxe Tunnels & Trolls RPG Adventure
Louis Porter Jr. Design: NeoExodus Pathfinder Adv. Temple of the Forbidden God
Troll Lord Games: Castles & Crusades Adventure A Pot of Broken Bones & Halfling Broth
Blue Panther: Unique Dice Tower
Obatron Productions: Tunse'al Quick Starts and Side Tracks (Savage Worlds Licensed)
Off World Designs: Free RPG Day Employee T-Shirt (XL)... OK, you won't get your hands on this, the store employee inside might get annoyed! I've put it here to credit Off World Designs's generosity.
Page last updated: 28 July 2014