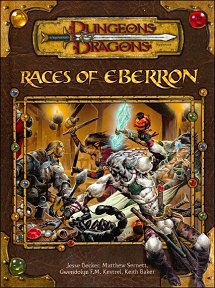 While aimed primarily at creating characters to play in the Eberron setting, there is plenty here that can be used or adapted for use in other settings, published or home-grown. An interesting feature for Eberron players is the way that the 'standard' races are considered in the light of this particular setting.
Publisher's blurb: "Dauntless adventurers arise from among the spirited races of the warforged, shifters, changelings, and kalashtar. These bold explorers hurl themselves into the most dangerous quests with an unquenchable thirst for fortune and glory.
"This supplement for the D&D game provides detailed information on the psychology, society, culture, behavior, religion, folklore, and other aspects of the races originally presented in the Eberron Campaign Setting. In addition, Races of Eberron also provides new substitution levels, prestige classes, feats, spells, magic items, equipment, and other options for creating exciting characters ready to explore any campaign world."
More when I get hold of a copy!
Book Details:
Authors: Jesse Decker, Matthew Sernett, Keith Baker and Gwendolyn F.M. Kestrel
Publishers' Reference: 177450000
ISBN: 0-7869-3658-4
Hardback, 192 pages
Date: April 2005
Buy this product:
Product page last updated: 3 May 2015