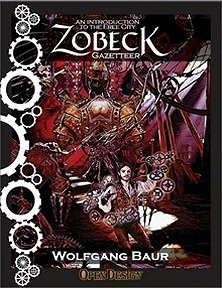 Although produced as a patron project, this was released on sale as well. Now there's a greatly expanded edition available for the Pathfinder RPG as well.
Publisher's blurb: "This introduction to the Free City of Zobeck showcases its clockwork magic, its gearforged PC race, and many highlights of the city, such as the Kobold Ghetto. Includes a beautiful city map and other distinctive elements of the setting.— Clockwork Magic and the kobold ghetto.
"Clockwork magic is just what it sounds like: a school of new spells and creatures related to automatons and golems. The gazetteer defines the school with 32 new spells and a discussion of clockwork devices.
"The kobold ghetto is a dimly-lit and dangerous place that comes alive by night, and that guards its privileges jealously. Learn who rules and what schemes the kobolds are honing behind the walls of their city-within-a-city.
"For good measure, the Gazetteer includes the Gearforged PC race, a set of practical and strange city locales, a little bit of history, and five new clockwork monsters.
"As a gazetteer-size treatment of the city, it provides enough that the shared world can truly be shared, without overwhelming a DM who wants to match the city to their own homebrew setting."
More when I get hold of a copy!
Book Details:
Author: Wolfgang Baur
Publishers' Reference: OPDGAZ1
ISBN: Unknown
Paperback, 48 pages
Date: December 2008
Buy this product:
Product page last updated: 10 October 2015