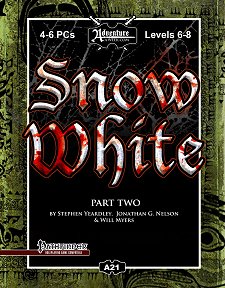 Following on from Snow White Part 1, the adventure reaches a magnificent conclusion. Characters of levels 6-8 should follow straight on from the first part of the adventure.
Publisher's blurb: "In Snow White part 2 the party is responsible for tracking down Lumi and returning her to Castle Morsain. Their quest won't be easy as they must first enter the dreaded Haunted Forest and deal with the seven short folk responsible for Lumi's abduction.
"During their journey the PCs must evade a bottomless pit ravenously following them through the woods, explore the fabled feyglade, and escape a forest maze and her minotaur guardian. Then the party will come face-to-face with the short folk and a wizened crone, before returning to Morsain and finding themselves under attack as someone tries to prevent them from getting back to the castle. A special PC may even have to deal with Lumi falling in love with him or her! Fantastical locations are only fitting for an epic fairy tale of this magnitude, and this adventure is filled with them. In this book you will get loads of fantastic locations, an Alchemist's Journal detailing flora and fauna in the Haunted Forest, new spells, monsters, and magic items."
Book Details:
Authors: Stephen Yeardley, Jonathan G. Nelson, and Will Myers
Publishers' Reference: A21
ISBN: n/a
PDF, 123 pages
Date: April 2013
Buy this product:
Product page last updated: 7 February 2015